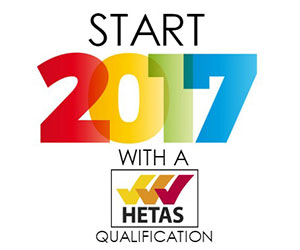 Make 2017 count with a nationally recognised and Government approved qualification from HETAS. Whether this year marks the time for a renewal of an existing HETAS qualification to ensure your knowledge remains up-to-date and in line with regulations and standards, or if it has inspired you to take on a completely new skill set to broaden your horizons and increase your service offering, Waxman Training Academy is your local HETAS Approved centre to help you gain valuable solid fuel skills and certification.
Waxman Training Academy offers the complete portfolio of HETAS courses to ensure installers throughout the North of England can top-up their skills or kick start their career in solid fuel. From one day introductory courses, to five day practical assessments, there is bound to be a course to suit your needs.
Dry Appliance Installation course
On average there were around 200,000 wood or multi-fuel stoves installed in the UK last year. With increased concern over carbon emissions and energy efficiency this figure is expected rise, especially since such appliances are now classed as 'must have' products for homeowners. Of course, with the increased demand for solid fuel stoves throughout the UK, the need for qualified installers to fit such appliances is greater, which means further training for qualified installers is vital.
Not surprisingly then, one of Waxman Training Academy's most popular courses is the HETAS Dry Appliance Installation course (H003). It is perfect for retailers, chimney sweeps, plumbers or builders with relevant experience to enhance their existing knowledge and learn more about the installation of solid fuel technologies.
There are two options for the course, the full course (H003) which spans over five days and offers scope for further learning into biomass and MCS accreditation, then there's the three day Defined Scope course (H003DS) which is more suited for those only interested in wood and multi-fuel installation.
Internal System Chimney Installation course
Lending itself to the skills developed from H003 the Internal System Chimney course (H006) is ideal for installers who wish to specialise in the installation of residential solid fuel stoves and the chimney systems that facilitate them.
The course is just one day long and is usually scheduled to follow the H003 on the waxman Training Academy Calendar, as a bolt-on. Discussing system components and best practice for installation, in relation to the various elements of a residential structure, the H006 will give detail on the most suitable chimneys for solid fuel systems and their design.
Approved Retailer course
Another popular choice among Waxman Training Academy delegates is the HETAS Approved Retailer course, which helps retailers of solid fuel stoves and accessories (and their staff) educate consumers about the benefits of using approved appliances, fuels and services. The course ensures that showrooms have at least one HETAS trained member of staff on duty at all times.
This interactive one-day course involves group exercises and gives learners a detailed understanding of solid fuel types and appliances in terms of the factors affecting selection, maintenance, carbon monoxide as well as the legislation that applies to dwellings. The result of the course means that customers will receive upmost care and advice when it comes to selecting a stove that is most appropriate for them.
Once registered, retailers will be able to utilize HETAS' logo and marketing collateral that instills consumer confidence as well as access the HETAS guide to products, the technical helpline and HETAS online shop which offers a range of products and workwear.
Other HETAS courses and refreshers
HETAS has introduced a new initiative that means you can sit your Refresher training up to six months prior to when it is due ; offering a larger window for subscription and allowing you to plan your workload around training. Rather than wait for previous qualifications to expire, you can ensure you are covered by the CPS all year round by sitting your refresher when it suits you. Under this scheme, you will not lose any time from your five-year extension as your Accreditation will be valid considering the original Refresher due date rather than the new completion date.
HETAS requires all registered installers to have a refresher training session every five years to ensure that they are abreast of the latest regulations and practices so that they can in turn maintain high standards of service for their customers.
See the other courses we offer here