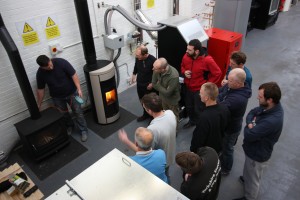 PRESS RELEASE
ELLAND, UK: Waxman training Academy, purpose built centre for the renewables and solid fuel industry, has seen full classrooms and high pass rates since recently launching its full portfolio of HETAS courses.
Achieving HETAS Centre status in July 2014, Waxman Training Academy has been offering a selection of HETAS courses to provide training in biomass, wood and solid fuels. After recently renovating the training centre to encompass (internal) system chimneys and traditional dry/multifuel appliances, it has evolved into a comprehensive learning hub which has seen a high level of certifications and impressive feedback.
Testimonial; Tom Stables, H006 candidate: "Was a good course builds confidence and the trainer was excellent!"
The HETAS portfolio consists of seven training courses where delegates, at any stage of their HETAS career, can learn about the complex technologies of biomass, solid fuels, chimney systems, wet appliances and pellet stoves, all with their own respective certification.
Experienced installers and retailers can choose refresher courses to keep their HETAS registration up-to-date and continue their professional development, while new candidates can use HETAS training at Waxman Training Academy to access CPS and MCS schemes, acquiring the underpinning knowledge to confidently and competently offer solid fuel services to customers.
Kenneth Walker, a recent trainee on the HETAS H003 refresher course, said this about Waxman Training Academy as a HETAS centre:  "Waxman's staff members, especially their trainers, have hands on experience and knowledge that makes the HETAS refresher course a better and more enjoyable experience."
The Academy, located in Elland, is one of less than 20 approved training centres across the UK and is the only one in the West Yorkshire region itself. Since additional courses have been added, the number of full courses has exceeded expectations with recent courses reaching delegate enrolment capacity.
Additionally, as a sister division to Waxman Heating, the Academy gives candidates the benefit of further technical support, product information and manufacturer guidance for solid fuel products thanks to a background in the distribution of related technologies. All of which offer an extra level of value to the already high quality services the Academy provides.
Waxman Training Academy is delighted to be one of the UK's only HETAS approved centres and puts its success down to working closely with HETAS to adhere with the latest requirements and trainee needs. The Academy looks forward to welcoming the many candidates that embark on their journey from trainee to expert, as well as those resuming for further study, thanks to the courses available from HETAS.
ENDS
Join our training community!
Like what you see? Why not share this story via social media and spread the word about our ever expanding range of courses and top quality services?! Simply click on the icons below to be taken to our respective social media pages, for updates on the latest Waxman Training news, courses and events.