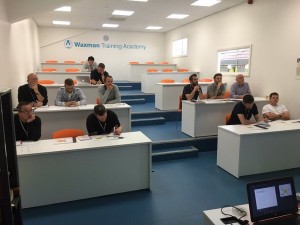 If you have just signed up to one of our courses, first of all let us start by saying thank you for choosing us, secondly let us congratulate you on picking an industry recognised qualification that you will greatly benefit from owning. Now you've booked in, it means you can prepare yourself for the training that lies ahead so you can well and truly make the most of your qualification.
By mentally and physically preparing yourself for the course ahead it means you will have more motivation and drive to succeed, which will in turn make you a lot more engaged in the subject matter which will increase your chances of passing and further retaining the information. We know how many resources go into just one person taking the time off work to complete a course, so we feel we should share a few tips with you so you can make the most of the money, time and effort you are about to put in.
Do your research
We're sure before you chose your course you did a lot of research in to the course topics, course provider and facilities in which training would take place to ensure you knew what you were making your investment in. Now you've booked in, you should still investigate further.
From knowing the exact location of your training centre to finding out a little bit more about your course instructor, it all goes towards being ready for training. By understanding the facilities you will be surrounded by, you will be able to walk into your training environment with confidence in the knowledge that all your needs are met.
If our training centre is anything to go by, you will be sent an information pack upon booking about your course and facilities, prior to starting, so you are well accustom to the company and the course. If you have any questions it's always recommended to ask, as this may put your mind at ease should you have any pre-course nerves.
Plan ahead
It's understandable that you are inevitably busy helping your customers in the lead up to your course, so may not have a lot of time to plan for training as much as you'd like. But preparation really is key when it comes to ensuring you'll pass your course stress-free.
Try spending a few minutes each evening reading through your course syllabus so you understand what will be required of you upon arrival. Do this a few times before your course so you feel organized when you arrive, its little things like this that really make the difference.
It's also a good idea to plan your route prior to the day of training. There's nothing worse than that daunting feeling before embarking on a new course, so you don't want to add to this the panic of being late due to an unexpected road closure or delay. If the centre is nearby, do a practice run a day or two before so you have a realistic idea of how long it may take you. If you live further afield, keep your eye on traffic reports and road closures so you can prepare for delays.
Use your time wisely
If you are embarking on a course with a colleague or friend, there's no better way to retain information than by giving each other a quick quiz about the topics you've learned each day. On the journey home ask each other about what was covered and what you learned; people learn at different rates and retain information differently, so you may have missed something your training buddy hasn't and vice versa.
If travelling along via public transport, you can also test yourself by giving yourself a quick recap on what you have learned, from the notes you made and course documents you're provided with. If you are driving wait until you're at home or in your hotel and do the same thing.
Get involved
Many of the courses Waxman Training Academy runs are heavily based on practical learning with hands-on training a main part to each topic. Simply standing on the sidelines and letting your fellow delegates participate will only hinder your learning, as you will not be putting all that theory into practice.
Try getting involved with most aspects of the training, as this will help you retain what you have learnt and leave a lasting impression as to how things should be carried out.
Another way of getting involved is to ask, if you're not sure. Even if you think the question is trivial, it's best to ask an expert while you're training than to go through life never knowing and it hindering your work and potentially impacting on your customers. Your trainer will be understanding and will be able to provide you with the answer in a way that you will be able to understand and remember.
Join our training community!
Like what you see? Why not share this story via social media and spread the word about our ever expanding range of courses and top quality services?! Simply click on the icons below to be taken to our respective social media pages, for updates on the latest Waxman Training news, courses and events.